Boon Edam Blog | April 2020
A Conversation about building regulations and safety on site with Marco van Doesburg from Royal Boon Edam International B.V., Health and Safety Advisor.
Your entrance is an important part of your building's overall security - yet it is easy to overlook the sometimes complicated task of installing a new one within a building. Be it a revolving door, a speed gate or a high security portal, there are a number of considerations to take into account to ensure the entryway is installed not only correctly - but safely too. Safety has never been as important as it is today, during the global Coronavirus crisis, where strict regulations need to be adhered to without compromise.
With ever-changing building regulations, safety precautions, and new types of entrances appearing in the global market, just how are entry suppliers keeping up with the demand as well as complying with local government regulations regarding social distancing and hygiene? We sat down with Marco van Doesburg, Health and Safety advisor here at Royal Boon Edam International, to explain how every entrance installation we conduct is safe for both the staff and the client.
Safe Installations During the Coronavirus Crisis
So much has been written about the topic of the global Coronavirus crisis over the past weeks, and we feel that it is important for our customers to know that we, at Boon Edam, take the situation very seriously. Not only are our office staff and planners working from home, but our teams of installers are also being taken care of when it comes to their personal safety and health.
Our teams are well equipped with the correct knowledge on local laws and guidelines on social distancing, while still maintaining a high standard of work on the sites.
Some additional and compliance measures our team are taking include:
Washing their hands frequently
Cleaning their work equipment regularly
Working in permanent teams and
Driving in separate vehicles
Our technical teams are in constant communication with individual construction companies and sites, to ensure that project areas are compliant and measures are in place so that work can be carried out as efficiently and safely as possible. By doing this we have managed to maintain our project schedules and keep things moving in our important sector. We are really proud of our teams out in the field during this time – they have bonded together and their joint attitudes give us hope for the future.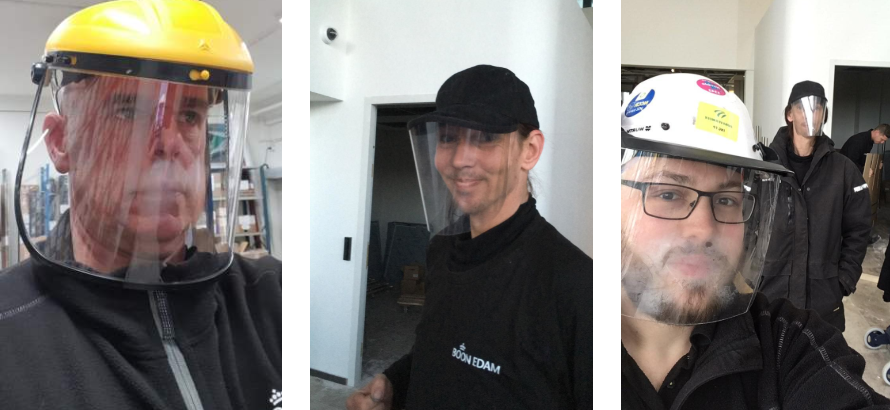 [Taking it Seriously: Some snapshots of how our field technicians are equipped for protection at this critical time.]
What are Building Regulations?
Building regulations are the key set of rules and standards that apply whenever part of, or an entire building, needs constructing. Naturally, building regulations apply to the installation of entrances too. Doorway size, height, accessibility… these are just some of the many areas that need to be considered prior to a successful entryway installation.
"We are proud to be one of the biggest manufacturers of entrances in the world, but operating worldwide does offer us some unique problems to overcome," explains Marco.
"We operate out of the Netherlands, which naturally has its own building regulations. However, my job takes me and my team all over the world. Different countries have different building regulations for doors, so we always need to be prepared and aware of the rules when installing entryways for our clients."
Take the UK for example. The general rules surrounding building regulations are contained within the Building Act 1984. While they provide a detailed overview of what to consider before the installation, more detailed information can be found in numerous other relevant documents. In the UK, these are typically contained within a number of Approved Documents, with each letter corresponding to a particular area of building regulations.
"It may be hard to believe, but our regulations here in the Netherlands are actually even more complicated than those found in the UK. While there are some similarities between the two, and others around the world, the slight differences between them can cause a breach in building regulations, which can end up having huge repercussions."
"My team and I, here in the Netherlands, are very lucky to have a dedicated building regulation team. They are responsible for not only ensuring all entrance projects undertaken adhere to the necessary building regulations, but they also help keep an eye on any potential changes to regulations that might be on the horizon."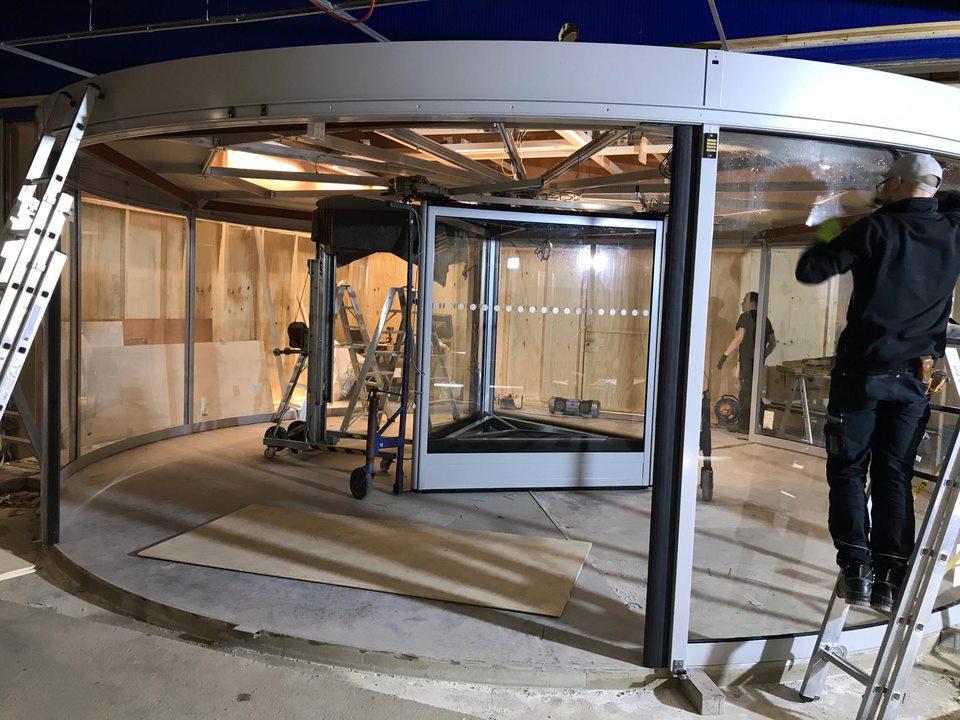 [Construction site at IKEA in the Netherlands: A nice open space to safely build-up a beautiful Tournex high capacity revolving door.]
Health and Safety in the Workplace
While building regulations provide installers with the information they need before construction can begin, they offer little context when it comes to the health and safety in the workplace.
With entrance installations, care needs to be taken to ensure the safety of not only those enforcing the installation but also of those still using the building.
"Entrance installations can be tricky at times because they are the means of entry and exit for the building's users. Be it doorway maintenance or installing entirely new entryways, entrances and exits to buildings still need to be accessible to those who require access to the building.
"Effective planning and communication with staff and building owners are key to ensuring things continue to run smoothly. We always try to ensure our work can be carried out safely, and with minimal impact on the day to day running of the building."
With over 25 different entrances to choose from, every project is different for Marco and his staff. However, when it comes to health and safety in the workplace, the procedures undertaken are the same throughout.
"It's our responsibility not just to protect our workers but also those who are still using the building. For example, we try to avoid manual handling by opting to use machinery wherever possible. Not only does manual handling have the potential to cause injury, but there is also a higher risk of material damage."
"If the material is a sheet of glass, not only will it likely injure staff if accidentally dropped, but it then means more time will be needed to get the required replacement piece to finish the installation."
"Electrical safety in the workplace and on site is also very important. The Duotour revolving door is one of our most challenging installations due to the use of its sliding doors. Complex wiring needs to be installed within it, which naturally comes with a number of electrical safety precautions staff need to adhere to."
But what of the future? Buildings change over time, and new building regulations are almost inevitable - which comes with its own host of challenges moving forward. Not least to mention the impact of the Covid-19, which has already had a large impact on the area of Health and Safety both in our own locations and those of our customers. We remain positive and confident that our people will find creative and innovative ways to overcome these social circumstance and that we will emerge from it even stronger and more efficient.
"I think we will see a big change when it comes to vertical urbanisation. Our buildings are getting taller which tends to make installations more difficult."
"It means that we are becoming more reliant on specialised equipment, such as spider cranes, to ensure the materials can be transported to the higher floors of the buildings."
"It's a challenge, but an exciting one at that."
Entrance Installation for your Business
For all your entryway installation needs, choose Boon Edam. With over 140 years of experience, our team can help select and install the right entryway for your business.