Security systems have long been in the business of risk mitigation. In addition to controlling potentially perilous situations as they occur and dealing with them safely and efficiently, a security system and its operators need to be able to identify problem areas and use the systems at their disposal to prevent issues, when possible, before they even occur.
A major source of risk for any facility—large or small, new or established—are the entrances and exits. Every facility has at least one entrance and an access control system alone cannot effectively mitigate the risk of unauthorized entry. Many buildings will have a number of different areas in their floor plan that require varying levels of security at the entrances to that area, even if it's as simple as locking an office before the weekend.
The Risks Present in Today's World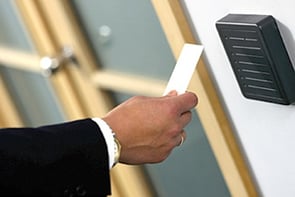 In light of the constant barrage in the news about shootings, data breaches, theft, violence in the workplace, smart mobs, and protests (are we missing anything?), the time of wide open, accessible lobbies and the simple, swinging door paired with an access control reader is coming to an end. The risk of the damage that could occur if the wrong person tailgates (follows an authorized user) into a facility is becoming too great. In fact, a 2014 survey we conducted revealed that 62% of security professionals polled believed one tailgating incident could cost their organization anywhere from $150,000 to "too high to measure." Obvious examples of tailgaters are thieves, shooters, corporate spies, disgruntled former employees, angry domestic partners. However, there's also Joe Q. Public getting into dangerous industrial areas, a journalist into a restricted area (bad PR), a teenager into a local gym or university recreation building (gets hurt and there's liability), a protester into a bank, and the list goes on.
Integrating the right type of security entrance with access control is the best way to prevent tailgating from occurring while reducing the cost of manning entrances. More security managers are realizing that a higher level of access control is a critical need for their security system. While you could deploy a solution using video surveillance integrated with analytics and alarming, without the additional presence of a security guard to respond, this system only can verify that tailgating led to an incident after the fact. It's therefore essential to proactively control who is going in and out of these areas, and ensure that only authorized people can enter.
Security entrances, when paired with access control systems, do exactly that.
Security Entrance Options
There are a number of different types of security doors and turnstiles available to address differing tailgating mitigation needs. For example, an optical turnstile serves the purpose of verifying credentials while also adding a measure of deterrence against casual attempts to tailgate. However, optical turnstiles don't prevent unauthorized entry; supervision is needed to respond to determined intruders.
For more sensitive areas of a facility, you will want to consider a higher-security solution that actually prevents tailgating. For example, a portal (or mantrap) has two sets of doors; the user's credentials open the first door, but the second door will not open until the first has closed and the system has verified via analytics that only one individual is inside. Security revolving doors also rebuff tailgaters and piggybackers (two people sharing the same compartment) using the same technology, but operate about three times faster.
All security entrances provide a visual deterrent to tailgating and other physical breaches, particularly full height entrances that require significant effort to brute-force entry. The right choice for you depends on the security needs of your organization. Whether you need to deter, detect or prevent tailgating, working with your manufacturer or integrator is the best way to determine which security entrances are the best fit to optimize system costs and effectiveness.
Metrics and an Auditable, Reliable SOP

When integrated with your access control system, security entrances also deliver a variety of business benefits beyond risk mitigation. In addition to preventing tailgating, they can provide a wealth of data, including completed passages, safety rejections, and emergency button usage, to give you more insight into how entrances are being used. They also give your organization an auditable, reliable, and consistent standard operating procedure that can be tailored to support existing or new policies.
Businesses today have more complex facilities, more sensitive and expensive assets, and a greater need to protect themselves from liability. Security entrances that deter access control breaches and prevent tailgating from occurring can help you protect yourself from these threats. Considering security entrances—from turnstiles to biometrically-activated full height revolving doors – as a fundamental part of your security system helps ensure that you not only protect your business today, but mitigate risk in the future.