So, what do you know about revolving doors?
A revolving door can be a complex solution to implement. A big reason for this is that there are often several parties related to a revolving door sale (contractors, specifiers, architects, etc.). This means the final building owners and facility managers may not have a full understanding of the benefits and value they can deliver.
We asked Glen Tracy, the Vice President of Sales for Architectural Doors here at Boon Edam, and some of our top door distributor partners for their top 3 most compelling and relevant benefits of revolving doors based on their decades of experience. We hope you might find a few surprises here yourself!
| | | | |
| --- | --- | --- | --- |
| | | | |
| Glen Tracy, Vice President Sales - Architectural Doors, Boon Edam | Jay Walt, Vice President at Automatic Entrances of WI, Inc. | Joe Dai, President of The MacKenzie Group, Manual and Custom Door Division | Jay Lowe, President at Rhinotek Solutions Inc |
#1 - Revolving Doors Add Prestige to a Building
Jay Walt, Vice President at Automatic Entrances of WI, Inc.:
Revolvers are an amazing functional design element. They can be personalized to blend seamlessly with the style of the building architecture or the company branding with custom hardware and adjacent canopy signage and height.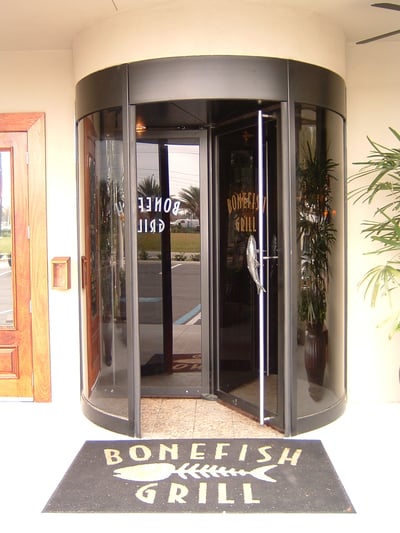 "Revolving door at a Bonefish Grill features custom lettering and a metal "fish" handle on the pushbar."
They're also an incredible enhancement and an asset to a building on a first impression basis for people approaching the building. They create the immediate perception that the visitor is in an upscale building. This is partly because revolving doors are most often associated with large scale, large scope buildings with huge lobbies and with hotels, lodging and other similar high-end facility types. And yet, they're just as effective on two- and three-story buildings of all types where you normally would see a pair of swing doors.
A well-designed entrance with revolving doors can create a focal point. When visitors see them from the street or parking lot, they're drawn to the main entrance at the center of the building. In this way the revolvers bring them right to the core of activity where information, elevators and signage are located.
#2 - They Cost Less Than You Think They Do
The total cost of ownership for revolving doors is often far less than the perception for facility planners, and owners. There are a few reasons for that.
Jay Walt:
Everyone has heard about energy savings but let's dive into this further: The perception of revolvers is that they knock out the cold by acting as a barrier to wind and cold air. This perception is very solid up here in Wisconsin, but in the northern United States and Canada in general. However, revolvers are actually energy efficient in EVERY kind of climate because they form a seal and keep that seal during rotation. Customers, architects, and owners sometimes don't realize that air conditioning is far more expensive than heating. We need to think beyond cold and drafts and remember that building interiors need protection from heat, humidity, and also insects too.
Revolving doors also counteract the negative air pressure or suction created by lobby elevator usage. Elevators have seals that protect them. While ideally they don't affect building usage, in the real world elevators create a negative air pressure which actually pulls more air into the building when they're being used. And since elevators are typically in the lobby there is an immediate benefit to a revolver because it doesn't permit elevators to pull in air – which happens when a swing door is opened. This is important for any multi-story building.
Jay Lowe, President at Rhinotek Solutions Inc:
Security revolving doors are a special type of revolving door that is becoming much more common in commercial buildings because they allow only those with the correct credentials (employees) to gain access to the space. They work so well at preventing unauthorized entry, so the user can take security guards away from the entrance and use them elsewhere.
Back to manual revolving doors, a big trend is to use them in restaurants and replace the old, "waiting area" vestibule. The door can reduce total cost of ownership by enabling more floor space to bring ROI – you can add more tables closer to the entrance (free of drafts) increasing the number of patrons and table turnovers.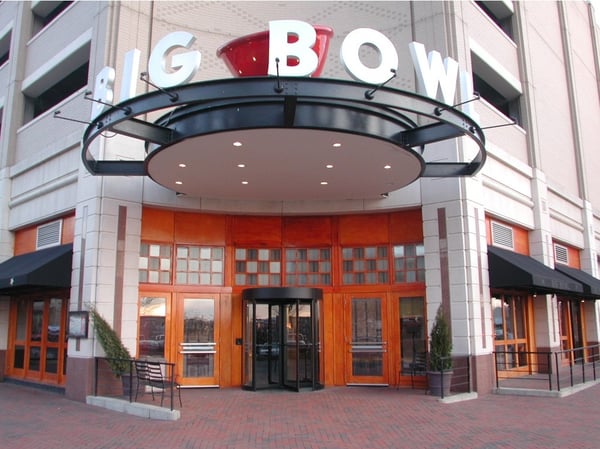 Many restaurants are using revolving doors to control indoor climate but also increase revenue-generating tables.
Glen Tracy, Vice President Sales - Architectural Doors, Boon Edam:
Some buildings also have installed our revolving doors to mitigate a wind tunnel situation. For example, there is a hotel in Greater Kansas City that has an atrium which is three or four stories tall. They have a side door in front as well as a back door which is almost in the same linear path. When both those sets of doors were open, even though it's a distance of 150 yards, it's an unbelievable amount of pressure. Revolving doors really solve that problem because they never become a big hole in the side of a building like a sliding door. There is always a seal with the door wings against the drum.
I've seen wind tunnel situations in restaurants caused by the ventilation in the kitchen area, and also in large atriums that include escalators, for example – these all can cause significant vacuums when sliding or swinging doors are opened for guests.
#3 - Planning for Installation Requires Expertise
Joe Dai, President of The MacKenzie Group, Manual and Custom Door Division:
It's really important for customers to understand that you can't just pull swing doors out and install a revolving door. To meet safety codes, a swing door is still required for emergency egress within 10 feet of the revolving door. And because the smallest inside diameter of a revolving door per code is 6 feet 6 inches, most manufacturers follow the matrix of 17. Doors should not be larger than 7' diameters and not exceed 10' in height. Ample room is required to accommodate the revolving door and required means of egress swing doors. You should always consult with the local authority having jurisdiction to ensure your local codes are followed when installing revolving doors and complying with the municipality's means of egress requirements.
Jay Walt:
Customers don't realize that the revolver needs to be designed first. The front entrance should be designed around it for a number of reasons.
There are important design questions to answer first. For example, what can be done at a relatively low cost to make the revolver not just functional, but also an aesthetically appealing element of the building? Does the flooring below the revolver match the vestibule inside? Will the revolver be fully inside the building, or half in and half out? Is there or will there be a sidewalk? And then there are the complementary, adjacent items such as side lights, swing doors, and other elements that can make that first impression a positive one. Design needs to be done first – it's much more expensive as an afterthought.
Jay Lowe:
Only factory trained and experienced technicians should install or service revolving doors. More damage can be caused by having an inexperienced crew who do not know the required steps it takes to install; for example, revolving doors need a floor that is solid and level. We see this all too often when the client is trying to save money. And finally, revolving doors require annual maintenance. With so many moving parts, it's well worth it to protect your investment by having a reputable revolving door company provide a preventative maintenance agreement.