You have a team of security guards, an ID card system in place, and a top-notch video surveillance system. Your facility is secure, right? Not so fast. While those security solutions are solid and necessary to help you to mitigate security risks, it is important to ensure that your entrances are secure, as well. After all, every door or entrance is an opportunity for someone to get in to your facility and cause harm.
Security entrances have become an essential tool to secure people, property and assets. This is true whether they are used indoors or outdoors, but not all entrances can handle both applications. Here are some types of security entrance solutions that can function indoors, outdoors – or both.

Entrances Suitable for Indoor and Outdoor Applications
Tripod Turnstiles
Tripod turnstiles are another versatile security entrance that can be used indoors and outdoors. For outdoor applications, tripod turnstiles have:
Sealed components keep water, dust, and debris out
No sensors to be impacted by light or the weather
An anodized aluminum finish for longevity
Optional platform and wheels for easy movement, a huge advantage controlling large crowds at sporting events or amusement parks
Optional canvas turnstile covers
Optional heavy-duty foam sleeves to protect arms
For interiors, there are aesthetically-pleasing models that can be equipped with rounded cabinets, and special finishes such as stainless steel.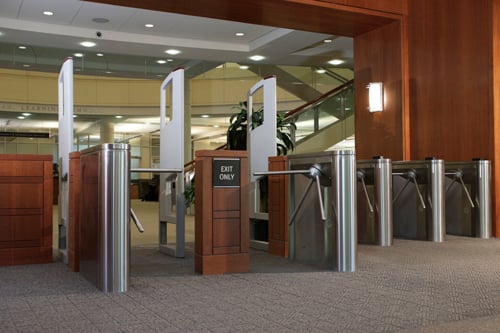 Full Height Turnstiles
Full height turnstiles are a rugged, low-maintenance solution for the harshest outdoor conditions, acting as a deterrent against tailgating and unauthorized entry at a fence line. How are full height turnstiles equipped for these conditions?
Sealed components keep water, dust, and debris out
There are no sensors to be impacted by light or the weather
An anodized aluminum finish holds up well and won't quickly fade or rust
But full height turnstiles aren't limited to the outdoors; they are also efficient entrances for the inside of a facility to control and monitor the flow of people. Indoors, they can be equipped with Lexan panels and clear sidewalls to provide an aesthetically-pleasing look in an office lobby. A great example of indoor use is Hofstra University's residence halls.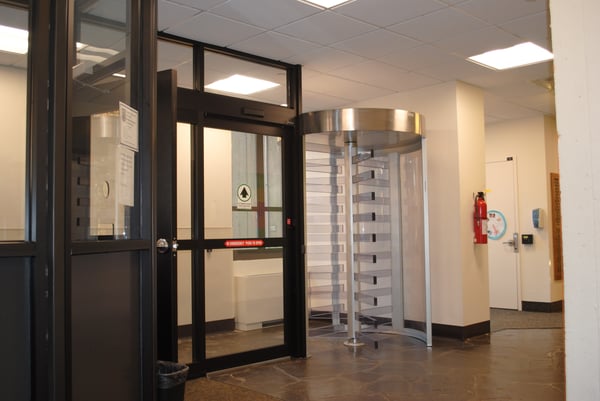 Entrances for Indoor Applications or on the Building Envelope
Security Revolving Doors
Security revolving doors are able to function both indoors or, like their cousin the automatic revolving door, on the building envelope. These doors are ideal for employee-only entrances (or approved visitors with credentials or escort) either in a building lobby, on upper floors off elevator banks, or on the sides of the building where employees may enter from the parking lot or garage.
Security revolving doors are equipped with sophisticated sensors that can prevent all types of unauthorized entry, including tailgating and piggybacking. Therefore, when positioned on the building envelope, these doors should be protected by an awning or overhang to avoid excessive buildup of water, snow or ice inside the door.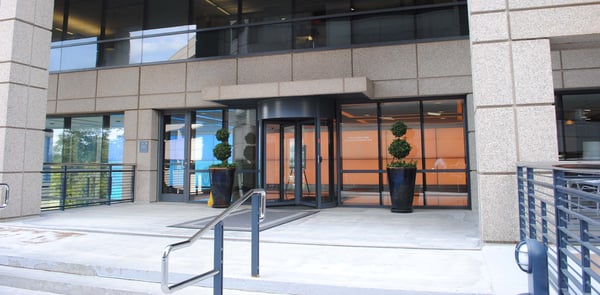 Security Portals
Security mantrap portals are unmanned entry solutions that can create layers of security and prevent tailgating and piggybacking into highly sensitive areas, like data centers, banks and C-Suites. You will often find them indoors for transitions into highly sensitive areas, for example at elevator banks on certain floors. They can also be installed on the exterior wall of a building, in which case a protective overhang or awning is required, and a top cover plate that goes on top of the portal to further protect the components inside.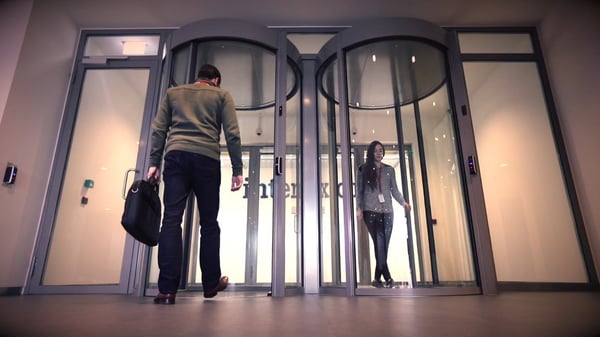 Indoor Applications Only: Optical Turnstiles
Optical turnstiles manage the movement of people in lobbies and building interiors while deterring and detecting unauthorized entry without inconvenience to the users. Most often found in office buildings, libraries and college campuses, optical turnstiles are NOT ideal for outdoor applications. Why? Their moving barriers are electronic and by design, are not completely sealed making them vulnerable to malfunction due to weather, dust and debris getting inside the cabinets.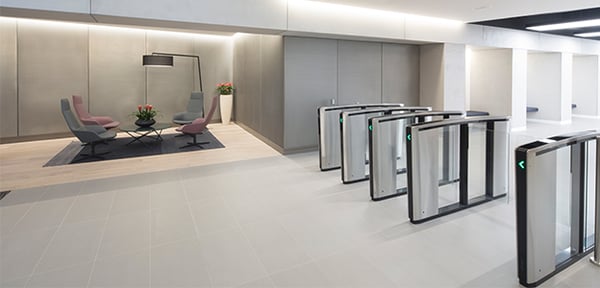 Securing a facility requires solutions that can control who has access to your facility, why and when, no matter where the entrance is located. Today's varied and technologically advanced security entrances can secure both indoor and outdoor spaces.