Without a doubt the biggest trending topic in the security industry right now is COVID-19 and how the various market segments are likely to be impacted by the pandemic. We asked three consultants for their opinions on how this will affect entrance security. While we were talking with each of them, we also inquired about the general awareness level of their clients on the risk of tailgating into their facilities.
Here is what each of them had to say.
How Will the New Threat of COVID-19 Impact Entrance Security Solutions?
Paul Kluttz, Consultant, PAK Consulting Services
Facilities and security managers are responsible for expanding the definition of a "safe and secure" workplace that now includes health challenges posed by COVID-19. I believe that access throughput will slow considerably as new measures are implemented that monitor an individual's temperature, requirements for maintaining safe distances, and use of face masks.

Ray Coulombe, Managing Director, Security Specifiers
I believe that ad hoc entrance solutions like the separate entrances and exits at Walmart, are only temporary until social distancing is unnecessary, after which there will be a new normal. Entrances that can be easily reconfigured to suit a current need will be popular. There will be increased deployment of non-contact entrance and identification technologies, and sensing mechanisms such as AI-supported video for distance and people clustering. Automated systems for economically disinfecting surfaces and development of germ resistant materials will also eventually become options for entrance products.
Nick Miller Regional Vice President, Guidepost Solutions
While pandemics have been on the list of business continuity planning for years, people were not typically willing to invest money in mitigating measures that seemed so unlikely an occurrence. Now that "100 Year" low probability risk takes on a different impetus and focus given our current situation. I suspect in retrospect we will find that the likelihood of future pandemic events will become statistically and economically of great concern.
There will be some new technologies, operations, and design elements developed to support distancing and contact tracing. However, they won't change the basic controls for coming into a building; the ideas of identity management or anti-tailgating. Ultimately the solutions aren't changing so much as our awareness of the risk and our willingness to take on that risk or be proactive in mitigation.
How Aware Are Security Managers of the Threat of Tailgating?
Paul Kluttz, Consultant, PAK Consulting Services
Security managers and consultants are very aware of the issues and challenges surrounding tailgating. Still, when it comes to entry, most want to facilitate quick passage that doesn't slow down or inconvenience anyone, since rank and file employees are typically unaware of the underlying challenges security and facilities leaders must deal with to maintain a safe work environment. Turnstiles installed at the outer ring of the facility are an excellent application to filter and move varieties of people quickly from an open public area to controlled spaces, especially during morning and afternoon shift changes. Deploying various credential or biometric access technologies such as cards, mobile devices or facial recognition will enable rapid and convenient access to the workplace. Having this kind of efficient and frictionless entry process is particularly impactful in a multi-tenant building where you have a variety of companies and cultures occupying office space.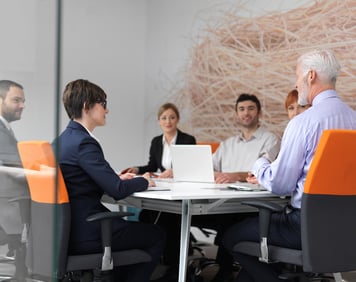 Ray Coulombe, Managing Director, Security Specifiers
I believe that the awareness is there. The question is how the tailgating message is reinforced at the pedestrian level. It seems to me that you have two choices – behavioral and technical. Behavioral involves employee training and awareness, probably best delivered as part of a social engineering awareness campaign. Messaging works best when people understand the need and buy into it. Technical involves constructing entryways which prohibit and/or alarm a tailgating action, such as a security revolving door or man-trap portal with sensing mechanisms. Knowing your audience and your budget may point to one or the other…or both.
Nick Miller, Regional Vice President, Guidepost Solutions
I would say that security managers in general are very aware of the issues of tailgating. The concept of identity management and knowing who is in your building is paramount in their mind for having a secure workplace environment. Historic events have driven some of that kind of mindset in thinking about how important it is to ensure that only people who clearly have the right to be in a building are in that building. That's what anti-tailgating is all about – ensuring that you're only allowing the person that clearly has the rights and the vetting to come into the work space.
The difficulty with enforcement of tailgating often rests on the facilities people, the architect, and in many cases even the culture of the particular client or enterprise. Many employees don't necessarily see the idea of holding a door open for someone as being a security risk. All of these things play into the awareness and the appreciation of what it takes to implement anti-tailgate measures.
We can create an entry experience that supports both anti-tailgating and "frictionless entry" so that the experience of the visitor or employee entering the building is easy. As an example, we helped implement new turnstiles in the Willis Tower in Chicago and they're using a hand wave biometric reader. That's a touchless, easy way for people to enter.