We live in a digital age. This fact makes the data center one of the most critical infrastructures of our modern era. And because data centers house servers that store and manage all of our data (billions of exabytes), a breach of any kind would be devastating – not only to the center itself, but for the hundreds or even thousands of businesses that trust the data center for safe storage. That is why the implementation of effective security measures are so important.
Limiting Access to the Physical Infrastructure
Cybersecurity is the first thing most people think of when it comes to data center security. However, it is far easier for a hacker to break into a server if they have access to the physical infrastructure. If not properly secured, a criminal can walk right into the building, plug a flash drive into a server and download social security numbers and addresses. They can grab a server right off the rack and stroll out the front doors with bank account numbers and pin codes. This makes physical security measures ever critical for safeguarding sensitive information.
Reducing Liability with Security Entrances
Oftentimes, organizations will mount an access device on a swinging door as a means of addressing unauthorized entry. However, this method is ineffective at mitigating tailgating – one authorized user can hold the swing door open for a number of others to walk right through. This common courtesy leaves organizations vulnerable to access by the wrong person, which could result in crippling liability judgements, work interruptions and more. The only way to truly mitigate risk and liability at a data center is to implement layers of physical security entrance solutions. Security entrances can help to protect data centers by strictly and efficiently controlling access, taking the pressure off employees.
A Layered Approach to Physical Security at Data Centers
When it comes to cybersecurity, the firewall is not the only means by which sensitive data is protected. If a hacker were to breach the firewall, other obstacles are in place to shield the data: virus and malware scanning software, monitoring services for unusual network traffic, and similar techniques. Likewise, the implementation of security entrances must be executed using a layered approach. If an intruder were to breach the building's fence line perimeter or lobby, additional physical barriers have to be in place to protect the ultimate gem – the data on the servers. Here's a look at how we've seen data centers secured around the globe:
Layer 1: Deterring Infiltration at the Perimeter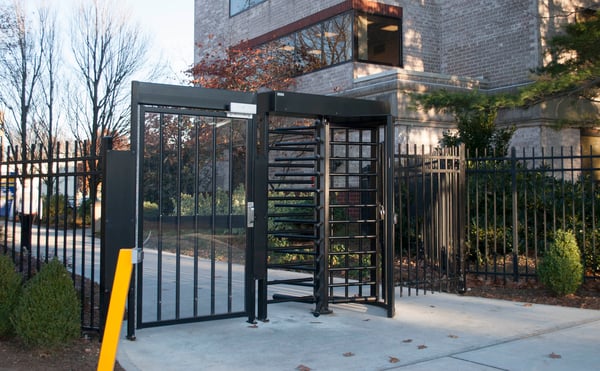 Physical security starts with keeping unauthorized users off the premises altogether. A data center is typically surrounded by a security fence outfitted with a full height turnstile for access. Employees exit their vehicles, proceed through the turnstile and enter the building. Full height turnstiles are a visual deterrent against infiltration and prevent tailgating, or an unauthorized person following in the next compartment. However, they do not stop piggybacking, which is two people squeezing through in the same compartment.
Layer 2: Detecting Unauthorized Entry with Lobby Security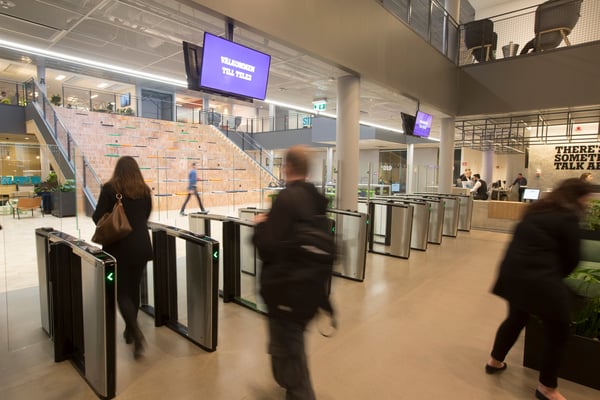 Once inside the building, data centers use optical turnstiles for lobby security. Optical turnstiles employ sensor technology to accurately detect objects moving through the lanes of passage, and can determine whether one or two people are passing through on a single authorized credential. Tailgating is possible, so if detected, an alarm will sound to alert a nearby guard or reception staff for quick response.
Layer 3: Preventing Intrusion at the Server Room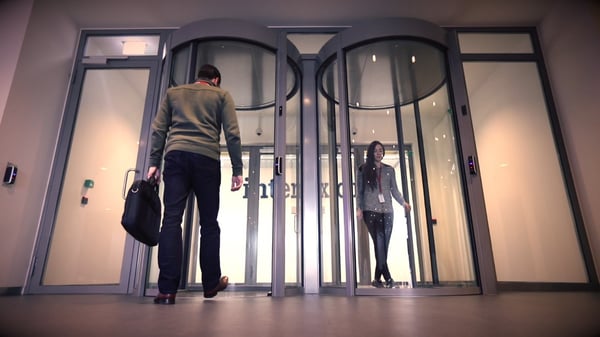 For the protection of the most sensitive area in a data center, the server room, it is critical that a physical security entrance prevent intrusion. Security mantrap portals enforce single entry by means of an overhead sensor system called StereoVision. Once a user presents their credentials and the door opens, StereoVision scans the compartment, verifying the user is alone. Inside the portal, an internal biometric device can used to verify identity, confirming that not only one person gets inside the server room, but the right person. This rigorous identification process does take time, typically only allowing 5 people through per minute. Since few employees are typically permitted into the server room, this entrance solution is ideal for data center applications.
To protect data centers and the critical data they contain, it is essential to think of cybersecurity and physical security as working hand in hand to protect critical data. Installing security entrances can help ensure that only people entering the building are credentialed employees or authorized visitors, providing the highest levels of security for facilities housing sensitive data.