Many people and authorities are taking a serious look at energy efficiency, especially where large, commercial buildings in metro cities are concerned – and rightfully so. The biggest energy users in commercial buildings are lighting and HVAC (Heating, Ventilation and Air Conditioning) – accounting for 19% of all the energy used in the United States, according to ASi Controls.
Unfortunately, there are no nationally enforced energy codes or "standards" that commercial building owners must abide by in the United States. Energy codes are agreed upon at the state and local levels. There are some guidelines, however, put out by the International Energy Conservation Code (IECC) and American Society of Heating, Refrigerating, and Air-Conditioning Engineers (ASHRAE). These two organizations focus on conservation requirements for the building envelope.
Vestibule Requirements for Energy Conservation
More and more local governments are adopting and enforcing IECC and ASHRAE energy codes to reduce air infiltration at commercial building envelopes. Why? Swinging and sliding doors allow conditioned air to escape out of the building and into the street. This can put strain on the HVAC system and create a very uncomfortable interior space for employees and visitors.
To mitigate air infiltration, the IECC and ASHRAE codes recommend that commercial building owners install vestibules at main entrances that open up into spaces greater than 3,000 square feet. In addition, ASHRAE recommends that there be a minimum distance of 7 feet between each set of swing doors. The idea is that, at that distance apart, both sets of doors will never have to be open at the same time.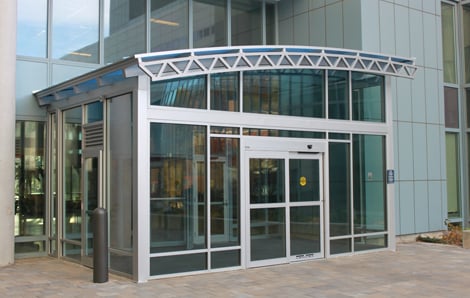 As mentioned, many local governments – including Chicago and New York City – are taking a second look at commercial building energy consumption and enforcing this vestibule requirement.
Revolving Doors are Always Open, Always Closed
Installing vestibules at a building entrance can pose a challenge for designers, though – especially for those looking to reap the aesthetic and energy-saving benefits of a revolving door at the building envelope.
While the IECC and ASHRAE energy codes identify vestibules as a solution for reducing air infiltration, these entrances have weaknesses:
They take up a fair amount of space, and
During peak traffic times, both sets of doors will be open, allowing large amounts of air to be exchanged.
Revolving doors are a unique entry solution in that they are always open, yet always closed. And, because there is a constant seal between the outside and inside environments, drafts are eliminated, noise and air pollution are minimized, and any stack pressure is cancelled out.
While the IECC and ASHRAE consider the revolving door to be an "exception" to the vestibule requirement, a countrywide building code may require a convergence of revolving doors and vestibules.
Designing Revolving Doors with Vestibules
The International Building Code (IBC) requires revolving doors to have an adjacent swinging door on the same building plane for emergency egress. Local governments that require vestibules on any swinging door(s) at the main entrance are directing designers to find a way to integrate the revolving door + swing door + vestibule.
Architects and specialty contracts have found a way to do just so, creating stunning entrances that mitigate air infiltration better than ever before. Don't take my word for it. A picture is worth a thousand words.