Next up in the eighth installment of our S.T.A.R.T.S.S. blog series, we are discussing the final "S" for Safety.
This vital component of the security entrance selection process is often missing from the conversation upfront. A failure to consider the safety features of security entrances could quickly and tragically undermine the effectiveness and success of the entire project, negatively affecting your ROI.
When Safety is Missing from the Discussion
Here is an example of what could go wrong if safety isn't discussed before the purchase and installation of a new security entrance. One software company wanted a security revolving door that allowed authorized users to enter in the evenings and prevent piggybacking. During the day, however, they wanted the same door to allow the public to enter freely.
The issue with such a request is that a security revolving door is a small door intended for "trained traffic", ideally as an employee-only entrance into a secure area. They operate in a completely different manner than standard automatic revolving doors and have their own requirements under ANSI (American National Standards Institute), which includes an exception that allows for no trailing presence sensors in each compartment.
Unfortunately, the architect specified a security revolving door and it was installed. The door was later replaced because there was a daycare inside and there were multiple contact complaints. The customer had to make a choice on a replacement solution and opted for a manual revolving door with a night-locking feature and access control integration to allow after-hours employee access.
To ensure this same situation doesn't happen at your location, let's review four safety factors that must be considered when security entrances, such as turnstiles and security doors, are installed and used in your facilities.
(1) Code Compliance
First, it is critical to ensure compliance with federal, state and local building codes, as these may differ between jurisdictions. These regulations are put in place to protect users in the event of a fire or other emergency.
One example is the code requirements for revolving doors. These requirements are defined by several different agencies – ANSI, IBC and the NFPA, among others. All mandate that a revolving door's wings be able to collapse or "book fold" to create a path of escape during a fire, and a swinging or sliding door must be present within 10 feet of any revolving door, on the same building plane.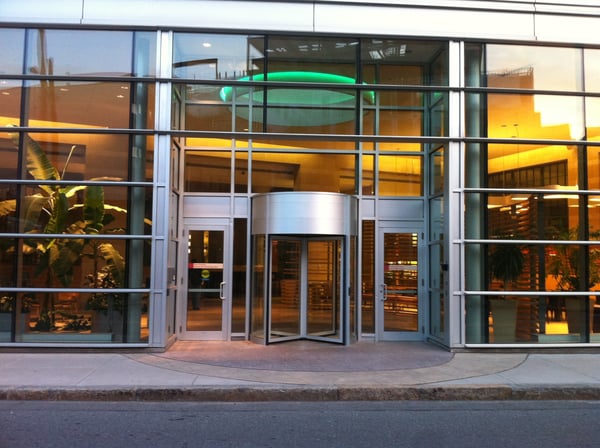 A failure to consider code requirements prior to the purchase of a security entrance could result in removal or replacement.
(2) Safety Sensors
Most security entrances use a barrier of some kind, and the more sophisticated solutions use presence sensors to detect objects or users. Before buying, ask how a product prevents and/or responds to entrapment or contact events. The answers should then be weighed against your security and safety needs, the type of users going through the entrance and their ability to be trained, the product's response to an incident during peak periods, and whether large objects are typically carried or pulled behind.
(3) Audible and Visual Communication
Ensuring users know how to interact with a security entrance is key to its safe use. Entrance solutions are equipped with a variety of audible and visual communications – everything from color-changing indicator lights and voice commands, to "emergency stop" and "push to slow" buttons. Discuss what safety communication features are available with the security entrance you are considering.
(4) User Training
Similar to #3, user training is another feature that contributes to the safe use of a security entrance. Your staff may or may not have encountered a specific security entrance solution in the past. Through effective training, though, you can equip them with the information needed to use the door or turnstile properly. Ask your manufacturer if they offer a user training program, including orientation posters and videos, e-mail communication templates, and general tips for proactive communication with everyone who will be using the entrances.
Security entrances, when they are selected with safety considerations such as code compliance, audio and visual verification, and proper employee training, will result in a more successful installation and secure facility. Selection and attention to safety also ensures you receive maximum ROI on your investment.
Stay tuned for the final installment of our S.T.A.R.T.S.S. blog series: Culture.