With the rising trend of corporate office real estate moving towards shared working environments, it stands to reason that an effective security strategy needs to be developed to ensure that the safety and security of everyone is addressed.
Sharing is Caring
Across the globe, big names such as WeWork and Spaces are well established coworking environments, and many more can be seen popping up in all major cities. Not only are freelances and start-ups taking advantage of such places, but larger companies are also leasing entire floors to encourage collaboration and innovation. Incorporating coworking into their growth strategies, companies are allowing people from all kinds of departments to work on projects with others outside of their normal roles.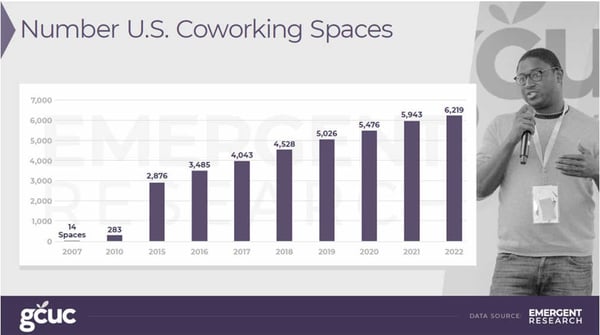 The concept of shared working spaces has evolved rapidly into what was once perceived to be a bit 'new-age' to a booming industry where the demands are to have a secure, modern facility which is well-managed. These buildings are often in prime locations in the city and need to provide cutting-edge technology and amenities to retain the inhabitants.
Welcome Yet Secure
The beauty of shared spaces is that people use them flexibly. They come and go without being on a schedule and need to have freedom of movement. The challenge for real estate owners is to ensure this freedom is not compromised by enforcing heavy security measures which would not only create the wrong image but could discourage use of these shared creation points.
A reliable infrastructure in these environments is one of the most fundamental demands and security is top of mind in today's unstable political climate. Different people have different security needs so, as a building owner, you need to consider who you are catering to and what their specific needs might be. Some groups like to have access to work 24/7 with no limitation to access of the shared facilities, while others like to have the flexibility to work between the shared space and home (and leave items safely behind).
Not all Security is Equal
A coworking ecosystem has many options to consider. Below are just a few, each with their own pros and cons:
A manned reception desk to handle access passes and queries
Access control on the main door connecting to a central security point
Night-locking revolving doors
High security revolving doors for a keyless, unmanned approach
CCTV Cameras
Lockable storage cabinets or areas
Smartphone access for convenience
Sufficient lighting to give a sense of security to those working late
Optical turnstiles for seamless and attractive access in the reception area
Building located in a 'good' area
Safe emergency egress and evacuation plan
Secured and trusted Wifi such as VPN and guest Wifi for visitors / non-members
A carefully thought-out visitor policy
Maximizing Security
To optimize your security in these very public areas is critical. Having a modern, trusted security workspace management software which integrates with all of your products in all areas is the secret to success. People are demanding user-friendly access and want to have a hassle-free entry, billing, visitor management etc. It is important for your members to know they will be safe in the event of a fire, emergency or active shooter event within the walls of their chosen work environment.
A layered approach to security is also an effective approach, starting with an access controlled security revolving door, which is designed to prevent piggybacking and tailgating security breaches and work independently of a security guard. Further in the ecosystem, you could install optical turnstiles, and even a high security portal at the entrance to very sensitive areas where confidential collaboration needs to happen or where sensitive data is being stored. You could look at lower forms of security such as tripod turnstiles or full height turnstiles if your building caters for outside spaces as well.

To learn more about how you can create a welcome and secure coworking space contact a member of our experienced team of entry experts today.