With the increasing threat of terrorism, active shooters and workplace violence, the physical security market is expected to reach $11.09 billion by 2020, increasing 11.3% from 2014. We spoke to our Senior VP of Sales, Greg Schreiber, and asked him how this growth in the market has impacted Boon Edam's operations, and how he expects the company to grow to keep up with demand.
Boon Edam's Growth in the Market
Q: Greg, why do you believe people are starting to see value in physical security products, specifically security entrances?
Boon Edam Inc. in the Americas has been in existence for a little more than 30 years, and what we have seen in the last half decade is that the demand for anti-tailgating products, in particular security revolving doors, has gone from infancy to early adopter stage to a move into mass-utilization phase. More and more end users are starting to see the value of stopping and preventing unauthorized entries into their buildings.
Tailgating and piggybacking is that last piece that cannot be stopped with a traditional access control system. Our focus on end users has helped us to not only tap into that demand but also to create latent demand, because in many cases the tailgating and piggybacking issue is known, but most of the time the solution or fix isn't readily known.
Q: You say the solution to tailgating isn't widely known...what is Boon Edam doing to educate end users?
We are doing a lot of end user education, specifier education, particularly with security consultants and even education with the integrators who provide that reseller and consultant role as well, to let them know what solutions are available and how they differ at mitigating tailgating. While we do have articles and whitepapers, most of our education is done in person by listening and learning about the problem and then educating on the best solution. I think that because of this education, we are seeing more of a steady deployment of security entrances over the last five to seven years.
Q: Where has Boon Edam seen a substantial amount of growth over the past few years?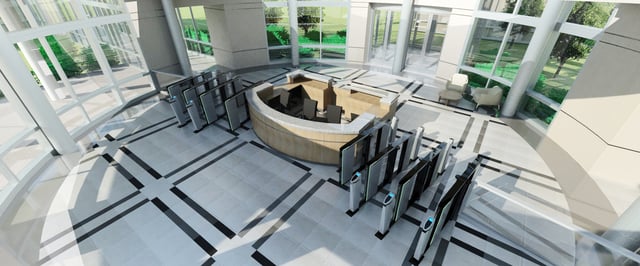 We are experiencing a rapid rise into the lobby/optical turnstile market; those are the typical swinging or sliding glass turnstiles in lobbies that provide the initial detection and screening of entrants into the building. That is an area we really didn't join until about 10 years ago and we have been gaining market share at a very rapid clip; today, we are one of the top three providers in that market.
Overall, across our entire product spread, our growth rate has been around 20% over the last seven years, and our overall revenue has tripled in that time span from the low tens of millions to pushing $100 million now. Double-digit growth rates will continue for the foreseeable future.
Investing in Sales & Customer Service
Q: So, a growth of this magnitude requires some organizational changes. What investments have you made to support the growth?
We have made a large investment in our sales and customer service organizations. Today we have more than two dozen sales people across North America both in the field and in our HQ in Lillington, N.C., to serve those customers and to reach out to them. Plus, we've got the largest and broadest product range of any competitor, and tend to be more of a "one-stop shop" than our competitors, as well.
The emphasis over the last three to four years has begun to shift more toward the entire experience of either a security integrator or end user that purchases our product. Because the company is relatively unique (we are by no means ubiquitous within the security industry), there is quite a bit of support and assistance that is needed through the initial selling cycle—prior, during and after the installation—as well as service, maintenance, etc., all through the lifecycle of the product. So, we have developed a customer support team to do all of that on behalf of the stakeholders and that often ends up being far more of a value to the end user and to the resellers than the product itself.
Increased Support of Security Integrators
Q: You are investing in your sales and support teams, but are there are any other areas of strategic focus for Boon Edam?
Yes, we are currently expanding product training specifically geared toward the security integrator group. It is great that we've got staffing and resources in place to work with them, to help them, to support them. But long-term, the growth of the product and its further use is not going to take off until the security integrators can be self-sufficient in selling, installing and servicing the product—just like they are with all of their other products that they represent in much larger numbers. So, a large part of our growth from this point forward will be on trying to enable the technical expertise for the installation and service of our products, and to enable and train and educate the sales staffs of the security integrators—to ramp up their comfort and knowledge level.