A building's entrance is its calling card, its first contact with visitors. As such its design is a key element to its success. In order to specify the right revolving door for a given project, seven key factors must be considered.
(1) Facade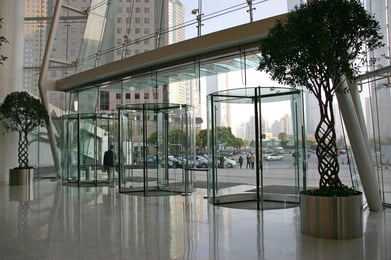 Revolving doors are an opportunity to enhance the drama of a building facade. Today's all-glass facades are the most popular building design and have virtually universal aesthetic appeal. Available in various widths and heights, an all-glass door complements the appeal of a glass facade. Minimal stainless steel trim and patch fittings contribute to a clean, sleek look. All-glass doors are naturally suitable for modern glass facades but they can also serve as a dramatic element in more traditional or classic designs. Vandalism-or burglary-resistant glass is also available. However, it is critical to note though that, to comply with ANSI Standards for Revolving Doors, all-glass revolving doors in the USA are manually operated, as they do not include metal framing elements to mount safety sensors as required for automatic doors.
Another very common facade is a storefront which typically includes finished metal or painted elements with glass windows. To complement this style, the more traditional aluminum and glass revolving door works well as the frame can be either anodized or powder coated in a wide variety of colors to match the storefront. Architects interested in a more polished look can select cladding in stainless steel or another type of metal, such as bronze. Door wings and the drum walls can be inlaid with clear or tinted glass and where appropriate the drum can be in constructed of solid metal panels.
(2) Connections to the Building
Revolving doors can be connected to buildings at mid-post, throat opening, and in several "keyhole" configurations including standard, double-bent glass, and angled. The common connection used is the midpost. However, since half of the door protrudes beyond the building envelope, it would not be recommended where pedestrian space is limited or without a protective building overhang. An interior keyhole may be used when the lobby is large enough that the door will not encroach on a nearby elevator lobby, stairs, and escalators.

With an interior throat opening or keyhole connection, a door is completely mounted into the interior of a building and there is no part of the door itself that is exposed beyond the building envelope. This eliminates any rain or snow accumulating on the top of the door and greatly reduces accumulation inside the door. It also greatly benefits useful life and reduces the amount of maintenance needed. Finally, an interior mounted door creates a mini overhang or awning effect that protects users from rain or snow just before they enter the door.
(3) Brand
Brand is important to all enterprises, and revolving doors can be selected to enhance an organization's brand identity among users. Doors can showcase trim color and glass options, including custom logo screen printing on the glass, custom pushbars, and canopy finishing and design in a way that emphasizes the visual identity of a company or organization. Automatic revolving doors with glass "showcases" in them allow space for seasonal promotions or special events.
(4) Dimensional Elements
The diameter of the door, the height of the door opening and canopy, sidewall enclosure base, bottom rail sideline, and the width of vertical styles can all be optimized to create the desired look and complement surrounding building elements and doors. When these dimensional elements are specified with consideration of the surrounding features, a fluid and harmonious sight line is created. For dramatic appeal, an additional curved glass enclosure can be constructed above the revolving door to greatly elevate the door's visual impact.
(5) Security Options
Security against man-made and natural hazards is a growing concern, and entry doors are a key focus of that concern for every building owner in both public and private sectors. Most revolving door manufacturers offer a variety of night locking options that can ensure the building is securely closed during non-opening hours. Options include different types of locking mechanisms that secure the door wings in their standard, resting position and night sliding doors that close over the throat opening of the revolving door. Doors can be locked from a remote location, and access control systems can be integrated with the door to allow authorized users to unlock and enter or exit the building. Today, many employee-only entrances use security revolving doors to prevent tailgating and piggybacking, which are unauthorized, and sometimes forceful, entry via a separate compartment or in the same compartment as an authorized person, respectively. Vandal- and bullet-resistant glass is also available.
In other applications, fewer safety measures and a minimal impact may be allowable in order to improve the flow of people through the door. Manufacturers can advise on what safety measures are advisable for a specific project.
(6) Recommended Surrounding Features

Building overhangs provide shelter from weather and keep snow and rain from getting inside the door, and are a popular strategy in colder sections of the country. However, as described earlier, interior throat opening or keyhole connections can create the same benefit within the entry itself, making for a simpler, more cost-effective solution by requiring less of an exterior overhang to be built. In addition, if access control is used, an overhang provides protection during the brief pause when a user must gain authorization prior to entering a security revolving door.
Adequate attention should also be paid to flooring. While revolving doors require the floor surface beneath them to be perfectly level to ensure proper operation, there are other considerations. Using different flooring materials for the circular area occupied by the revolving door itself visually signifies to users the actual path of the moving door wings and makes for less confusion and hesitation upon entering. The installation of the matting materials at the exterior and interior will help avoid slips and falls. Many buildings also employ stainless steel floor grates on either the exterior or interior side of the door or even under the entire door to collect dirt and debris before entry in order to decrease maintenance costs. Grating or matting that continues 10 feet or more into the interior space can also help qualify for LEED IEQ5 (Indoor chemical and pollutant source control).
(7) Capacity and Type of Use
While the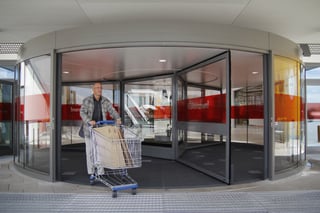 above concerns are certainly to be considered, the biggest issues in the specification of a revolving door are capacity and character of expected traffic. Obviously, the traffic expected in a small office building will be very different than that expected at an airport terminal. Architects will have to consider how many and what type of people are expected to enter and exit a facility. Will rush hours be a concern or will traffic be spread throughout the day? Will doors have to accommodate individuals with luggage or shopping carts? Are hospital gurneys an issue? Capacity is based on type of facility and user demographic. Slower capacities are generally applicable for facilities that will accommodate families, children, the elderly or the disabled, including museums, hospitals, transit systems or airports, restaurants or retail establishments and hotels and casinos. These are all situations in which users may be entering the facility for the first time and need time to adjust or get their bearings in unfamiliar surroundings. In addition, each of these user categories may be further constrained by luggage, wheelchairs, and packages and be slowed by their own or the needs of members of their group.
Optimum capacity is reserved for "trained traffic," or users who are familiar with the doors and the building and are either residents or employees who come and go on a regular basis.
In general, small office buildings, restaurant, and high-end retail use three- or four-wing manual revolving doors. Either two- three- or four-wing automatic revolving doors are more appropriate for hotels, hospitals, airports, and large retail stores.