The world is full of choices, and a lot of the time it feels like, as a decision maker, you are left confused and trying to pick out the best in what feels like a sea of 'the same'. When talking about a large and long-term investment such as an entry product, careful consideration should be taken to make sure you are selecting a professional partner for the right reasons. Not only the right reasons but also one who will remain in the picture for the life of the purchase.
In Safe Hands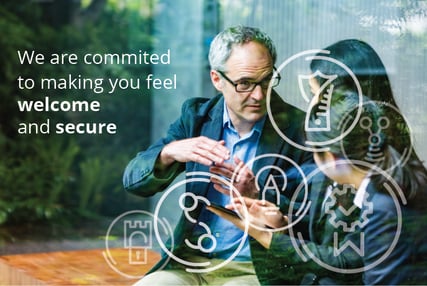 Whether you are in the market for an architectural revolving door for a new corporate office or upgrading the security level in your entrance lobby with security turnstiles, making the correct choice for your individual needs is a vital one. The below 6 factors will help you make an educated and sensible decision.
No. 1: Carefully Tailor-made
People want options and control over what they buy. Be sure that the manufacturer you choose has scalable and flexible options available to you, as well as top-of-the-range standard products if ease and convenience are a factor in your choice. Every project and installation are different and sometimes a customized and personally produced product outweighs the importance of speed and straightforward design specs. Make sure your partner can offer both options without a sacrifice in quality, workmanship and delivery.
No. 2: On-trend Craftsmanship
Make sure that your chosen partner takes the utmost pride in the goods that they produce and that the level of attention to detail is always evident. Ask to receive a personal tour of their factory and see for yourself. We also recommend that it should be obvious when you speak to the manufacturer that they value their craft and skills and that they think and speak in terms of efficient flow, safety, user comfort, energy preservation and the time taken to listen to your individual needs.
No. 3: Proven Reliability
Nothing speaks louder or more confidently than a company who has a long and solid history behind them. Find out more about the experience your partner has gained along the way and talk to them about how their past can help you in your current project. If a company can prove in words, pictures or actions that they know their area of speciality extremely well, it will give you the faith that they are the right people to partner with. Companies with a long line of loyal and repeat customers should always be given consideration.
No. 4: Secure Investment
A big investment should reap rewards for you after the sale and in years to come. Make sure your partner is invested in your long-term Return on Investment and is equipped and knowledgeable enough to guide you in this area. When looking at a revolving door for example, your partner should be able to educate and advise you on factors such as energy saving and CO2 reduction as well as know their range and offer the perfect solution to your unique construction.
No. 5: Strong Connection
It goes without saying that you should feel at ease with the person that you deal with. You should trust them with their expert knowledge, their honesty in doing reputable business, but further than that, the connection should extend into the company as a whole. Find out what their global footprint is. Do they have offices close to you? Are they able to provide you with fast and efficient responses to breakdowns or on-site issues? Do they have specialized knowledge of your local market and how things are done where you are? These are critical questions to consider. And finally:
No. 6: Trusted Partnerships
It is all very well to find a partner who is perfect for your product manufacture, but you would be in an even stronger position if the company you chose offered the full spectrum. Select a partner who can collaborate with you from project conception, design, engineering through to manufacture, installation and maintenance. It is a lot better to 'shop at one shop' and know that your large investment is truly understood and is in the best hands in all phases of the life-cycle.