We've installed thousands of entry solutions, talked to end users all over the world and have developed a comprehensive process for choosing the right security entrance. That said, no process is perfect, and we've come to observe that certain organizations will consider some of the decision criteria quite well but leave out one or two factors. We call these the "gotchas," and when forgetting or ignoring any one of the criteria, you can end up with a security entrance that doesn't address the needs of your organization.
We divide the entrance solution decision-making process into two parts: before installation and after. Before Installation, purchase decisions are often weighted towards security, aesthetics and return on investment (ROI). After installation, however, and once there is no going back, throughput, training, service and safety play a more prominent role.
While initially aesthetics or security usually jump out as paramount, all seven decision factors contribute to an effective security solution. For most decisions, the criteria before installation are relatively prominent and well understood. Where the "gotchas" rear their less-than-pleasant heads is in the pesky factors that often don't occur to the decision-makers until the new security entrance has been installed.
(1) User Throughput

Throughput (how quickly authorized individuals can enter your facility) affects users directly on a daily basis and is critical to user acceptance of a new security entrance. Before you commit to a particular kind of entrance solution, carefully and manually calculate the throughput requirements for your entrances. Note deliveries and wheelchairs. Don't rely solely on access control numbers if you have swinging doors, as multiple tailgaters could enter on a single authorization and reduce the count. Once you have the counts, research security entrance throughput specs.
A Houston-based company installed an array of optical turnstiles in their regional headquarters lobby. Unfortunately, they did not research throughput numbers and the turnstile they installed required each user to badge in, walk through the turnstile, and then wait for the turnstile barrier to reclose before the next user. During peak times, lines would form. Eventually, the company decided to replace the turnstiles in favor of a model that allowed multiple registrations with access control ("card stacking") prior to entering and also kept its barriers open as long as all the users were authorized. The difference was an increase in throughput from 22 to 60 people per minute per lane—and that made all the difference.
(2) Technical & End User Training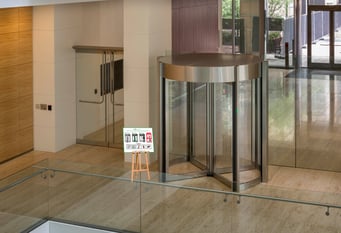 Training usually isn't considered a major factor when choosing an entry product, yet it is key to long term success and customer satisfaction. Since most manufacturers do not directly install their products, they should provide a comprehensive technical training program and some form of certification to create successful service providers for end users.
Another important aspect of Training focuses on the actual users (employees or students) themselves. How will they learn to use the new equipment once installed? Many sophisticated security entrances require a limited range of acceptable behaviors, making training a necessity for optimal safety and throughput.
A major insurance company decided to install a single security revolving door at one of their buildings on their large headquarters campus. The employees didn't receive any formal training beyond, "Just badge in and step through the door." The only problem was if an employee did not step directly under the presence detection sensors in the ceiling, the door did not rotate and allow entry. This training "gotcha" caused numerous complaints. After manufacturer-recommended training and door "ambassadors", complaints decreased dramatically and, over time, management decided to install more of the same security doors at several campus buildings.
(3) Service Considerations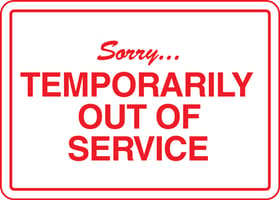 Service considerations typically come last or not at all when making a buying decision. Yet, during and after installation, the level of service directly impacts continued operations and ROI. Consider the negative impact of a delayed installation or service visit, or delayed parts availability on your building entrance procedures — all because service was left out of the decision-making process.
A Philadelphia office tower installed two optical turnstiles in their main lobby that matched the building's aesthetics beautifully. After a few years, one of the turnstiles stopped working and a part had to be ordered from Europe—downtime was estimated at four weeks. With only two opticals in their lobby, having one out of service was unacceptable and the owner immediately began looking into replacing the turnstiles. Elsewhere in Pennsylvania, a Pittsburgh hospital had a security door that was out of service. Management was shocked to find out that the nearest authorized service provider was over eight hours away—gotcha!
(4) Product Safety
Safety, too, is rarely discussed during the bidding process. However, it is the one factor that could quickly and possibly tragically undermine the success of the project. Most security entrances use a barrier of some kind. The more sophisticated barriers use presence sensors to detect objects or users. Before buying, ask how a product prevents entrapment or contact, and how it responds to either event. The answers should then be weighed against your security vs. safety needs, your users and their ability to be trained, the product's response to an incident during peak periods (does it stop and require re-badging?), and whether large objects are typically carried or pulled behind.
A California software company wanted a security revolving door that only allowed authorized users to enter at night and also provided piggybacking prevention. During the day, however, they wanted the same door to allow the public to enter along with any children for a daycare center inside. The architect was unaware that piggybacking prevention and public use don't mix very well, especially with children involved. Due to frequent contact incidents, the company decided the public need was greater than the piggybacking prevention and they had to incur the expense of replacing it with a manual revolving door that had night-locking feature with an access control system to allow off-hours employee access.
(5) Bonus: Forget Culture at Your Own Peril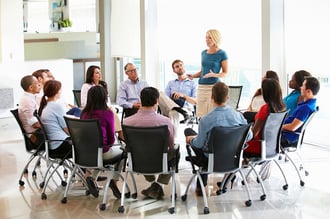 We've discussed seven crucial decision factors here, but there is one more factor to consider: culture. Culture permeates all the other decision factors and is critical to success. Do people care about their personal safety in Boise at the same level as those in Manhattan? Are all management stakeholders involved in the buying decision, from CEO to finance to HR to administration to residence life to the facility manager? Is there high employee turnover or students requiring recurring training? Decision makers should understand your campus or company culture and be willing to assist in implementing a culture shift through communication and training.
A drastic example of culture affecting the deployment of security solutions happened a few years ago at a West Coast internet company. A new CEO was hired, and he ordered the turnstiles in the front lobby to be removed because "this company isn't about barriers." So, it pays to inform the CEO of new security measures and why such measures were taken!
The success (or failure) of a security entrance project must start and end with a comprehensive, consultative process that considers the full range of factors for the ultimate decision. As we've seen above, a conscientious leader can preside over a process that includes most of the eight essential criteria. However, forget one and even a careful, comprehensive effort can result in a big "gotcha" that brings a new security entrance project to a crashing halt.