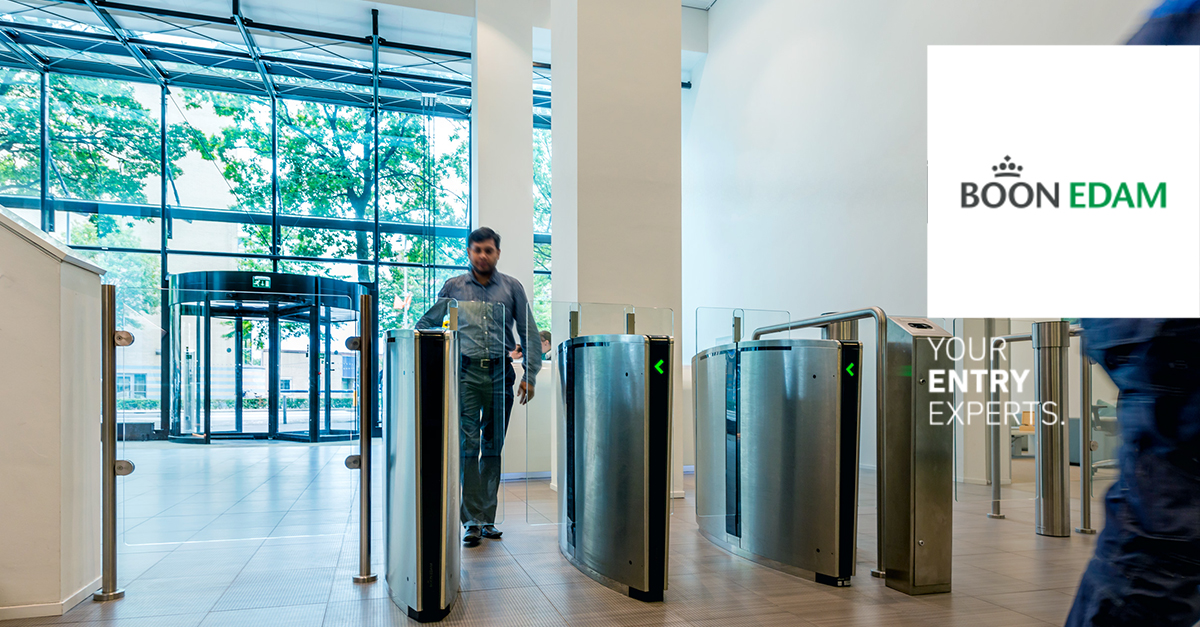 The world of building design is an increasingly complex environment, where a wide variety of client requirements must be moulded into viable solutions ready for construction. Whether it be for new builds or existing structures, discovering the focal points of the building, examining conditions of those areas, and specifying what the design intentions are, remain to be essential considerations.
This article walks you through an easy process of ensuring you will install the correct product based on 7 fundamental considerations. Whether you are a security manager, contractor or architect, the below are areas which need to be thought about and discussed at the start of a project. Let's get right into the first one;
1. Throughput
Building Capacity and Traffic Solutions
Buildings have at least one exit and entrance where the quantity, capacity, type of use and location are all criteria which need to be analysed in order to decide on the most efficient option regarding the movement of people in and out of the building. High occupancy rate structures such as multi-story office complexes naturally require a high capacity entrance. Large revolving doors can accommodate high volume throughputs while maintaining comfortable movement of larger objects such as baggage and wheelchairs. The versatility of revolving doors due to multiple size options alone can offer a stable solution to building throughput considerations.
Ask yourself these questions:
Are there children, prams or trollies which need to enter?
Are there specific peak times? I.e. Changing of shifts or lunch breaks.
Do the users require a certain 'comfort zone' in terms of personal space?
Is there a need for either disabled access or deliveries of large items?
2. Security
Determining Areas for Security – High, Medium and Low
Buildings have become complicated yet diversely designed structures that require multi-level security options throughout the building ranging from low to medium to high. Each level of security has a common denominator; to prevent unauthorised access and to detect compliant users. Low to medium security solutions such as speed gates or access gates provide a soft deterrent for reception areas and many offer a stylish alternative to barriers or roping and allow for a more seamless, automated access solution to restricted areas of a building. If the aim of the entry solution is to control the flow of traffic, low-level turnstiles are also a popular specification. Security is a key concern in the world we now live in. Protection against both man-made and natural hazards is a growing concern and has, therefore, become a key consideration when it comes to choosing how people enter and exit a building.
Ask yourself these questions:
Is there a variety of access levels required within the same building?
What security risks are you trying to mitigate?
Do you need to prevent, deter or detect an unauthorised entry to a specific area?
Do security levels vary during the course of the day?
Do the public need access to certain secured areas?
Do you need to remotely secure the entrance?
3. Safety
Acknowledging Regulation Requirements
When beginning any specification there are certain requirements, environmental standards and safety compliances that focus on specific areas of a new build or an existing structure. Before any design process can be initiated, the entry product chosen must go through similar inspections that enhance the buildings overall safety rating. Designing the solution means complying with the strictest safety regulations, and understanding the requirements of the building in which it is going to sit. For example, doors can be fitted with access systems if required, that can prevent unwanted visitors from gaining access. Safety in this case also covers the area of end-user safety whilst using an entry solution.
Ask yourself these questions:
Who are the end-users? I.e. Children / elderly / disabled
What local safety compliances need to be met and adhered to?
What is your strategy to best deal with an emergency situation such as fire, evacuation or a crisis?
4. Aesthetics
Designing the Correct Solution for the Building Type
Construction, architectural and engineering industries highlight the positive effect beautiful buildings have when it comes to first impressions. The power of the first impression has led to the increasing desire for all details of an entrance to be designed in line with the overall look and feel of the building while still considering everyday use. Now, with the dynamics of cities changing where buildings are getting taller and the global workforce growing, incentives such as 'cycle to work' schemes, for example, have seen this have an impact on the entry solution decision. Building designers and architects alike, are increasingly looking for an adaptable entry solution that not only copes with traffic type and objects but can incorporate bicycles and scooters moving through the entrance. There are an array of versatile revolving doors with some even configured to transform into a standard sliding door set helping to solve the issue of long object movement. Aesthetics also goes into the area of branding a space and providing a visual calmness in terms of lines, colour and the impression of a seamless and welcome, yet secured, entrance.
Ask yourself these questions:
Is branding important to you?
How can you balance functionality (security) with design to meet both goals?
What impression do you want to create on your visitors and staff?
Do you want to achieve a high-end, high-tech, blend-in or stand-out solution?
Do you have specific requirements for colours, substrates, glazing or glass finished to fit with interior design ambitions?
5. Technology
Adapting and Integrating New Technology
Modern workplaces are changing. With work patterns evolving to offer employees more flexibility, buildings are extending their opening hours to accommodate the new expectations of the occupants. It is important to monitor who is entering the building and ensure they are only granted access to designated areas. Many security lanes are installed within areas where security and visitor management is a top priority. As technology evolves, one needs to update the existing entrance solution to ensure the safety of users and remain fully compliant. Now with technology becoming accessible anytime and anywhere, the evolution of digital solutions should enhance user experiences through offering levelling up options to entry solutions and give authorised employees full visibility and control over the use of products such as security lanes or doors in real time.
Ask yourself these questions:
How future-proof is your project?
Do you need to update an existing solution or ensure you are receiving the most modern solution available?
Do you need the entrance to integrate with other technologies such a biometrics and access control systems?
Have you carried out sufficient trend research with regards to available innovative technologies to boost the product's lifecycle and efficiency?
6. Comfort
Enhancing Building Energy Ratings
Efficiency is important in a building. Specifying for an entry solution should ensure that buildings are as efficient and the internal climate is as comfortable as possible - the 'always open, always closed' idea of a revolving door prevents draughts, dust and noise coming into the building, and means that the inside and outside air remain separated. Keeping the inside of a building at a consistent and comfortable temperature requires careful maintenance, and the expenditure of energy, which is where revolving doors can help. The reduced energy required to maintain a consistent temperature can minimise the carbon footprint of a building - saving on both energy and cost, without impairing peoples' access. This category also ensures you consider important environmental issues relating to low carbon footprint and green buildings.
Ask yourself these questions:
Is my entrance solution energy efficient and compliant with local environmental certifications and health and safety regulations?
How up-to-date is the technology used in the product? Will it minimise the carbon footprint during operation?
Is the product safe and easy to use?
7. Service
Servicing and Maintaining Entry Solutions
Entry solutions are commonly located within the busiest area of a building; therefore, the continued operation is vital to ensure the traffic flow of visitors and employees are managed effectively. Committing to a service and maintenance programme for doors and security barrier systems will give building managers the cover and comfort of knowing that continued safe entrance operation is readily available. Like anything, regular care and maintenance is an absolute requirement regarding products that directly affect user movement and in essence, can sustain the quality of the door through the replacement of specialised parts and components as well as offer the ability to refurbish old technology to keep products running smoothly with up-to-date specifications. The service category also covers the important category of training of end-users and user adoption.
Ask yourself these questions:
Do you have a strategy for breakdowns and planned preventative maintenance?
Is there an SLA in place? What are these impacts?
Do you have lifetime coverage for the entrance product?
Have the building occupants been trained on how to use the product? Do you have access to training manuals, workshops or on-site education?
Putting the Power into Your Hands
Once you have taken the journey towards the right product for the right environment, you should now be ready to dive deeper and fine-tune your product to ensure the areas most critical to you are fully accounted for. Saving you money and providing the most effective solution all around.
Work with a supplier who provides opportunities for you to level up where it counts most, according to your most motivating value driver. In today's day and age, we as consumers are used to having the power to decide what it is that we want. Entrance choices should be no different. Depending on your unique circumstances, you should have the freedom of choice to upgrade or add priority to the areas which are most critical – be it heightening security, making it safer or customising the design and branding to make a statement. You should be able to use the above 7 considerations to determine where you priories for your entrance are and customise from there – see the examples below:
| | |
| --- | --- |
| - Throughput | Add: Diameter / Width / Height / Configurations |
| - Security | Add: Additional Sensors / StereoVision / Locking / Safety Glass |
| - Safety  | Add: Fail-Safe / Fail-Secure / Warning Decals / Audio and Visual Cues |
| - Aesthetics  | Add: Material Colour / Shape / Branding |
| - Technology   | Add: Biometrics / Access Control |
| - Comfort   | Add: Climate Control / Disabled Entry / Lighting / Energy Saving Mode |
| - Service  | Add: Service Levels / Training / Maintenance Contract |