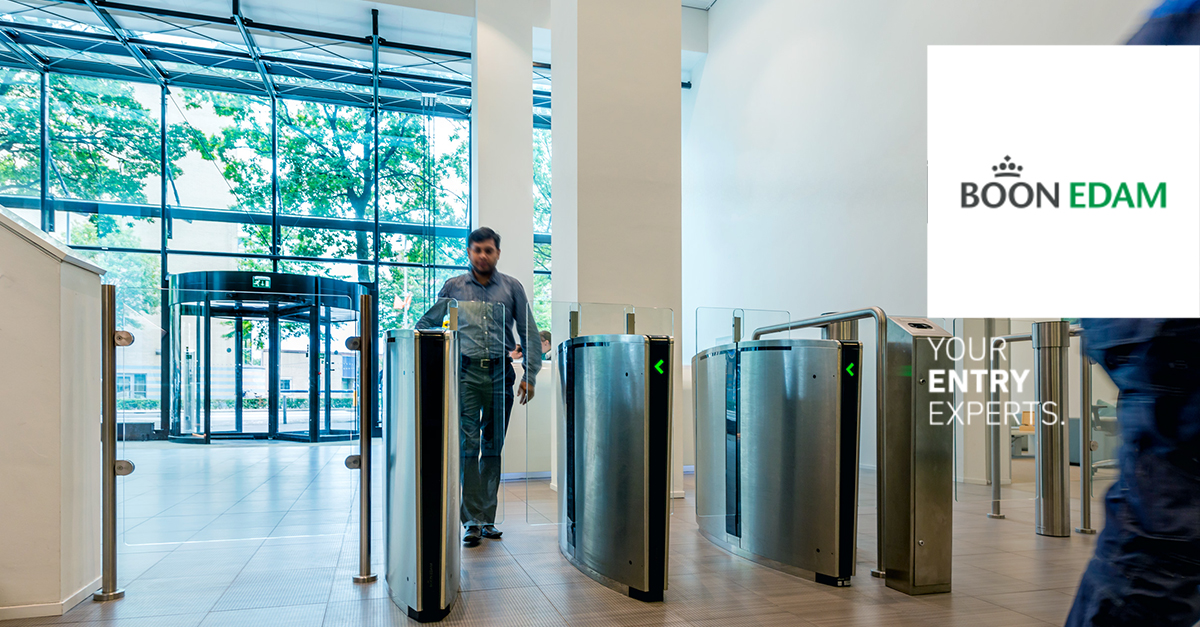 Boon Edam Limited Blog | 05.March 2018
Keeping your building, visitors and employees safe.
Safety within corporate and public sectors will always be paramount to those who's roles are to prevent and detect security breaches within their HQ environments. A wide variety of industries ranging from healthcare to education, are now prioritising prevention strategies, which effectively enhance building visibility helping them to clamp down on internal structure compromises, keeping employees and building visitors safe. And, as security threats continue to affect many corporations around the country, we've listed 5 of the ways you can increase effective and essential safety measures, to improve the security of your corporate building:
Whilst it has commonly become standard practice to implement the use of security doors, many public sector and corporate buildings still lack this effective security measure. The use of revolving security doors and portals allows for the direct control of pedestrian passages, in turn, minimising the risk of tailgating and piggybacking. With models that now feature sophisticated sensor technology that ensures the reinforcing of single person entry, security doors offer reliable secure entrances that maintain the safety of the building – and most importantly, those within it.
A popular product for many corporate buildings especially located within major cities, speed gates are an effective addition to many HQ buildings as they provide an attractive yet secure entry solution. Speed gates offer reliable and high tech security without compromising on footprint. With several types of model available that have customisable options, it's easy to find the perfect solution for you and the type of building. Introducing speed gates can allow for extra combined functionality of access control systems.
3. Surveillance
Often considered as the staple of security, in both corporate and public sector environments, surveillance is fundamental to the safety of employees, visitors and the buildings themselves. While CCTV is the most popular choice for surveillance equipment, the choice is not limited. From IP cameras to wired surveillance cameras, each type is suitable for a variety of requirements. Through observation of high traffic areas or restricted areas, surveillance cameras can contribute to, as well as increase, overall building security.
While security doors and speed gates cater to securing the entrance and lobby of a building, turnstiles offer protection and peace of mind for both additional indoor and outdoor access points. Similar to the effects of security doors, turnstiles provide a regulated single entry, allowing for the easy management of visitors to the building. Much like security doors and speed gates, turnstiles can also operate with an access card, ensuring that only authorised persons can enter - while visitors must report to visitor management to gain access. Turnstiles also have an extensive range of models, from full height turnstiles to tripod turnstiles.
Suitable as an alternative, or used in conjunction with security doors, access gates cater to a variety of visitors, rather than the limited pedestrian access that security doors provide. Access gates offer comfortable and secure access for visitors who require mobility assistance, or visitors with large luggage or pushchairs. With the variety of models available, you can find an access gate that is suitable for your requirements, including slimmer models that do not take up all available space.
For more top reads related to this article:
Equal Access for All, The emerging trend of integrated security for intelligent buildings and 3 factors to consider when specifiying doors