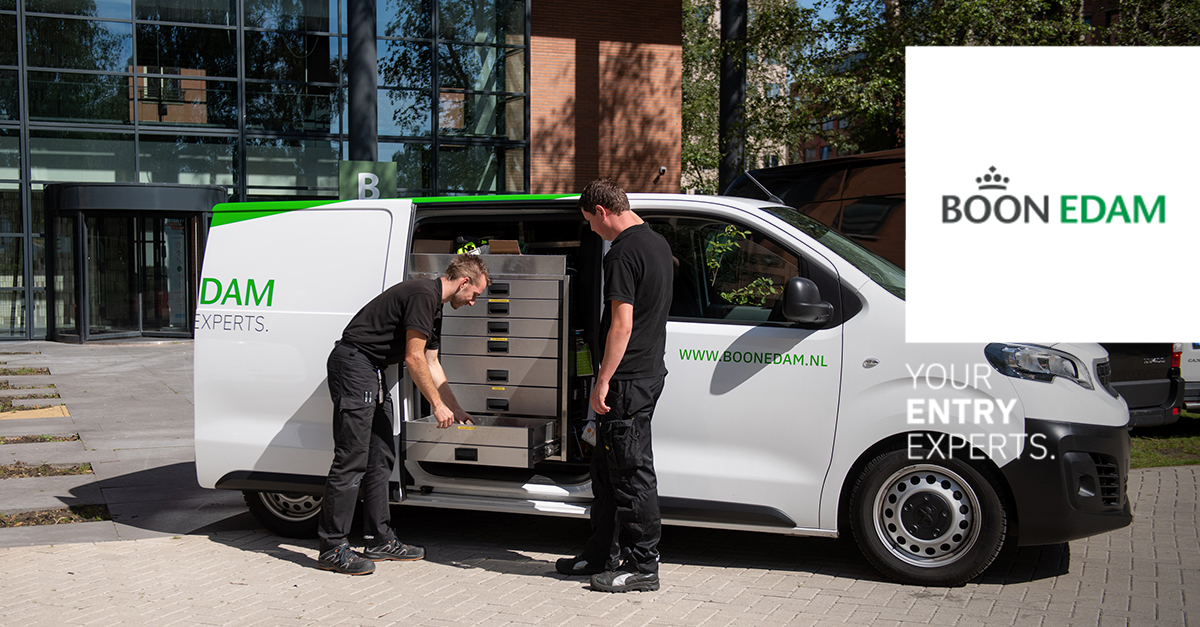 Boon Edam Ltd, a global market leader in entry solutions, has 140 years' experience in delivering bespoke solutions for many high-profile clients. With its combined knowledge, the team at Boon Edam provide support and expert guidance throughout every stage of the project; from advising on the design and specification, to project management and installation. However, sometimes clients aren't aware of just how many possibilities there are when creating a bespoke entrance solution with Boon Edam. Some entry solutions require high levels of security, whereas others desire a certain aesthetic for the entry the building to reflect the image of their brand. Whatever the requirement, Boon Edam entry solutions provide a user-friendly, technologically advanced and attractive gateway into your environment.
Boon Edam's experts David Godden-Duske and Geoff Firth discuss what factors need to be considered to deliver a perfect entry solution.
1. Who and what occupies the building?
The entry solution required varies depending on whether a building is for sole occupancy or to be used by multiple companies. With small office buildings, the Tourniket Revolving Doors are very popular; we often find that the priority is the practical functionality of the door, with a lot less focus on the aesthetic element. Often with Headquarters buildings, Boon Edam's Crystal Tourniket revolving doors are installed on the perimeter to compliment the building's exterior façade and add an extra dimension to the building.
All buildings have internal assets and people that they need to protect from external factors, the sensitivity and vulnerability of these assets and people will determine the level of security required from the entrance solution. Sometimes, a client will only require a low level of security; for example, to direct visitors to sign in at the reception area to monitor attendance, or to control traffic flow. If the building contents are of a sensitive nature, it raises the question as to whether security should remain at the reception space or whether there are different security zones that needed to be established throughout the building.
2. What is the client requirement for the entry solution?
If the aim of the entry solution is to control the flow of traffic, low-level security doors or pedestrian turnstiles can be specified. Many reception areas have security barriers or waist height turnstiles, simply to create a barrier between authorised personnel and visitors or to stop people entering areas they shouldn't. Often, our experts are asked to enhance turnstiles by adding full height glass; this creates a definitive barrier but isn't perceived as intimidating for the visitor.
If security is a high priority, there are several options to consider. Boon Edam's Tourlock doors are recommended when stricter security measures are in place, as they can be equipped with numerous access control systems to prevent unwanted visitors.
Internal comfort is another factor which should be considered. For example, if an internal meeting space is located by the main entrance, it can often be cold and unpleasant from a draught of wind - especially if a building is exposed to the inclement weather such as by a sea front. Boon Edam's revolving doors are the perfect solution as they not only control disruptive traffic flow in a meeting space but also prevent a draught from entering the building and promote energy efficiency.
3. Does the entry solution require any bespoke options?
A variety of bespoke functions can be added to Boon Edam doors to meet a client's requirements. Integrating the building's lift display into the top of a speed gate is a tailored solution that is becoming popular. A user presents their I.D. card to access the building and the lift then automatically arrives to take them to the designated floor specified by their I.D. This kind of technology is becoming more common in reception areas to provide a smooth operating function in busy, multi-tenant corporate buildings.
Large corporations often require bullet-resistant glass as an extra security feature. Panic buttons are installed for those who require them and are available as an upgrade at any time. They are controlled via the reception desk and lock down all doors, either at the same time or individually, in the case of an emergency.
The usability of any entrance system for employees and visitors to a building is an important factor when considering the entrance specification. An all in one Revolving and Sliding Door such as the Boon Edam Duotour incorporates two automatic sliding or swinging doors in its design to offer a 'best of both worlds' entry solution. At peak times, for disabled access or to allow large objects passage, the function of the Duotour can be switched from the automatic revolving door setting to automatic sliding or swinging doors ensuring maximum capacity and ease of movement.
The Tourniket or Crystal Tourniket Revolving Door can be specified with collapsible door sets meaning the Revolving Door wings can be manually folded to increase the entrance width, meaning large deliveries can easily enter and a high capacity of people can flow through the reception in an emergency. For disabled access requirements, an automatic pass door can be installed by Boon Edam adjacent to the Revolving Door.
Historically, banks and data centres have been the most common type of building to demand high levels of security. However, Boon Edam has seen a rise in security and access requirements in a variety of buildings, from office buildings and basement carparks to universities and colleges. To learn more about our solutions and how we can meet your requirements, visit here.